Launch of La Horde school in 2021
La Horde is a graduate school of computer science that will open in Bordeaux in September 2021. It offers a unique course: Bachelor's degree (Bac+3): Video Game Developer and Master's degree (Bac+5): Video Game Technical Architect. The school intends to train future video game programmers of excellence.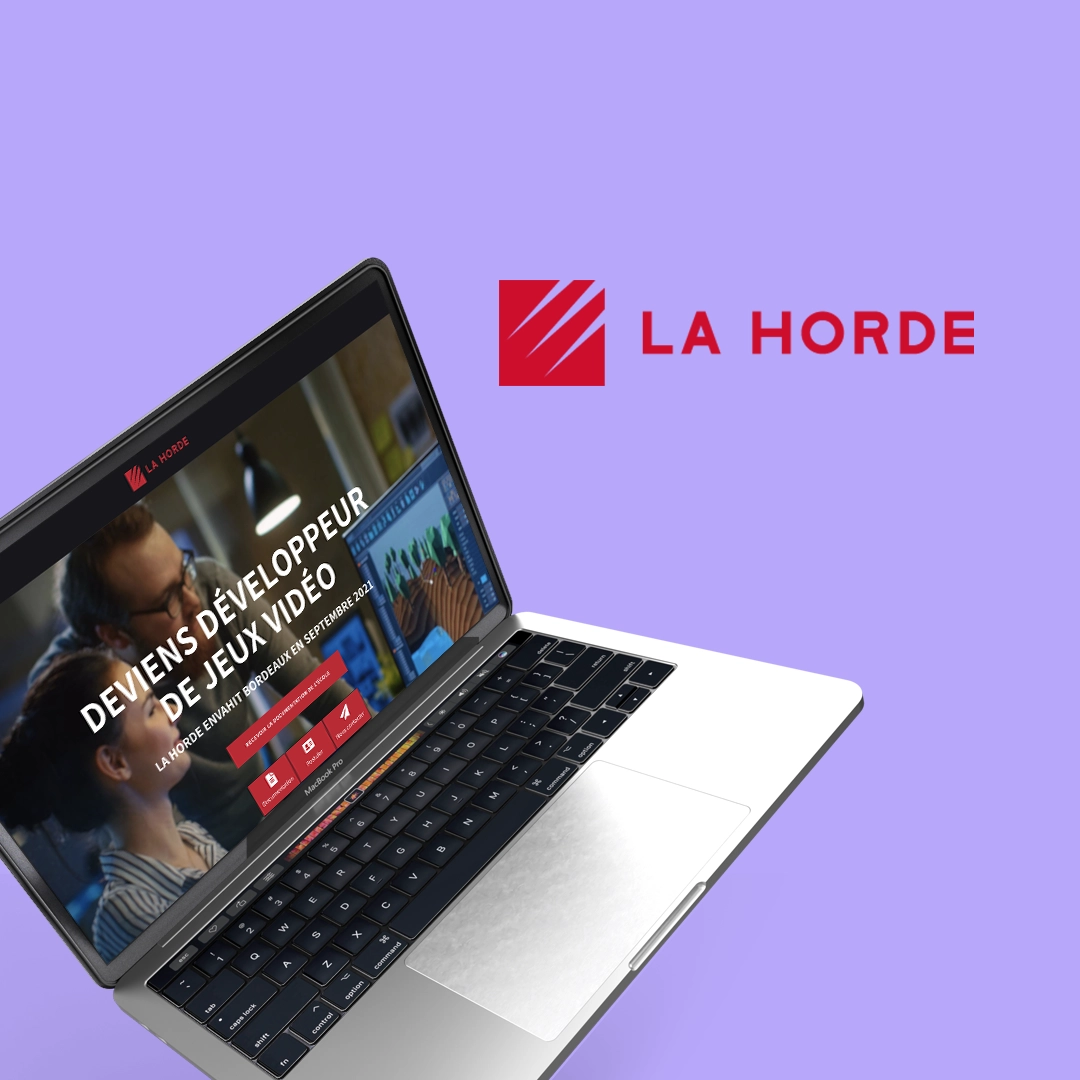 | Technologie & Déploiement |   |   |
| --- | --- | --- |
| WordPress | Platform SH |   |
Webmarketing & Webmastering

 
 
 Google Search Console
Bing Search
Google Ads
Facebook Ads
Twitter Ads
Google PageSpeed
CRM, Automatisation & Monitoring

 
 

 HubSpot
Zapier

Google Analytics
Google Tag Manager
Google Data Studio
Context and stakes
The video game development market is booming and the city of Bordeaux is not left behind with its many professional studios. The main challenge of the sector: to unearth young start-ups mainly from a sector of computer development not very specialized.
With the development of techniques related to video games, the evolution of the market which is constantly growing, and an extremely dynamic ecosystem in Bordeaux, we have found fertile ground to develop a concept of apprenticeship to the professions of video game development.
– Julien Leonard, Director of La Horde
We were keen to approach the recruitment mission for the first class scheduled to open in September 2021 with a lot of empathy and ideation. Indeed, although the sector is growing year after year and the opportunities are multiplying, the technical requirement necessary to become professional and the health situation in early 2021 lead to many issues to overcome. We have applied the methodology below.
Stack Programisto
We deployed an environment of human and digital resources in order to successfully complete this web acquisition campaign. Here are some of its details below:
Human resources deployed
1 WordPress developer / integrator for the realization of the showcase site
1 webmarketer for the targeting strategy and the construction and optimization of the conversion funnel and building, monitoring, optimization of acquisition campaigns
1 salesperson, 1 community manager and a content creator within the La Horde team in collaboration with Programisto
Digital resources deployed
Hosting on Platform. SH for its resiliency and speed of response
Search Engine Optimization (SEO) via data analysis on Google Search Console and Microsoft Bing Search
User journey optimization via PageSpeed analysis and tracking via Google Tag Manager
Search Engine Advertising (SEA) on Google Ads, Youtube Ads, Display Google Partners, Facebook and Instagram Ads and Twitter Ads platforms.
Data monitoring via Google Analytics and Google Data Studio
Using HubSpot CRM (Customer Relationship Management) to track lead conversions; marketing automations via Zapier